Webinars
#FOAM (Free Open Access Medical Education)
Emergency Radiology topics
Each webinar will last approx. 45 minutes with chance to ask questions at the end.
Webinar places are limited and will be offered on a first-come, first-served basis. Early registration is recommended.
The webinars are open for all active ESER 2018 members.
Webinar 01
Tuesday, January 15, 2019 | 18:00 CET
Elderly Trauma
Dr. Elizabeth Dick, London/UK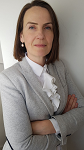 The first webinar in 2019 is not only open for members, but for all ER interested persons.
Description & learning objectives are to be announced
Future Webinars
The 2019 webinar schedule will be published in December 2018.

Past Webinars/Webinar Recordings
The webinar recordings are available for active members in 2018.
Use the following link to login to the secure members area: ESER Webinar Recordings
Not yet received the password? > Contact office@eser-society.org.